8 minutes reading time
(1542 words)
Why You Should Consider Replacing Your Microsoft Windows Server with a Synology NAS
Small businesses require effective ways to save, retrieve, co-author, backup, and share data among employees to boost their competitive advantage. However, maintaining and improving this technological infrastructure could be difficult for small businesses as they commonly have limited resources and small budgets to allocate to such relatively expensive projects. Thanks to various devices such as a Synology NAS (Network Attached Storage), small businesses can typically replace their Windows Server with a more affordable solution and continue operating efficiently.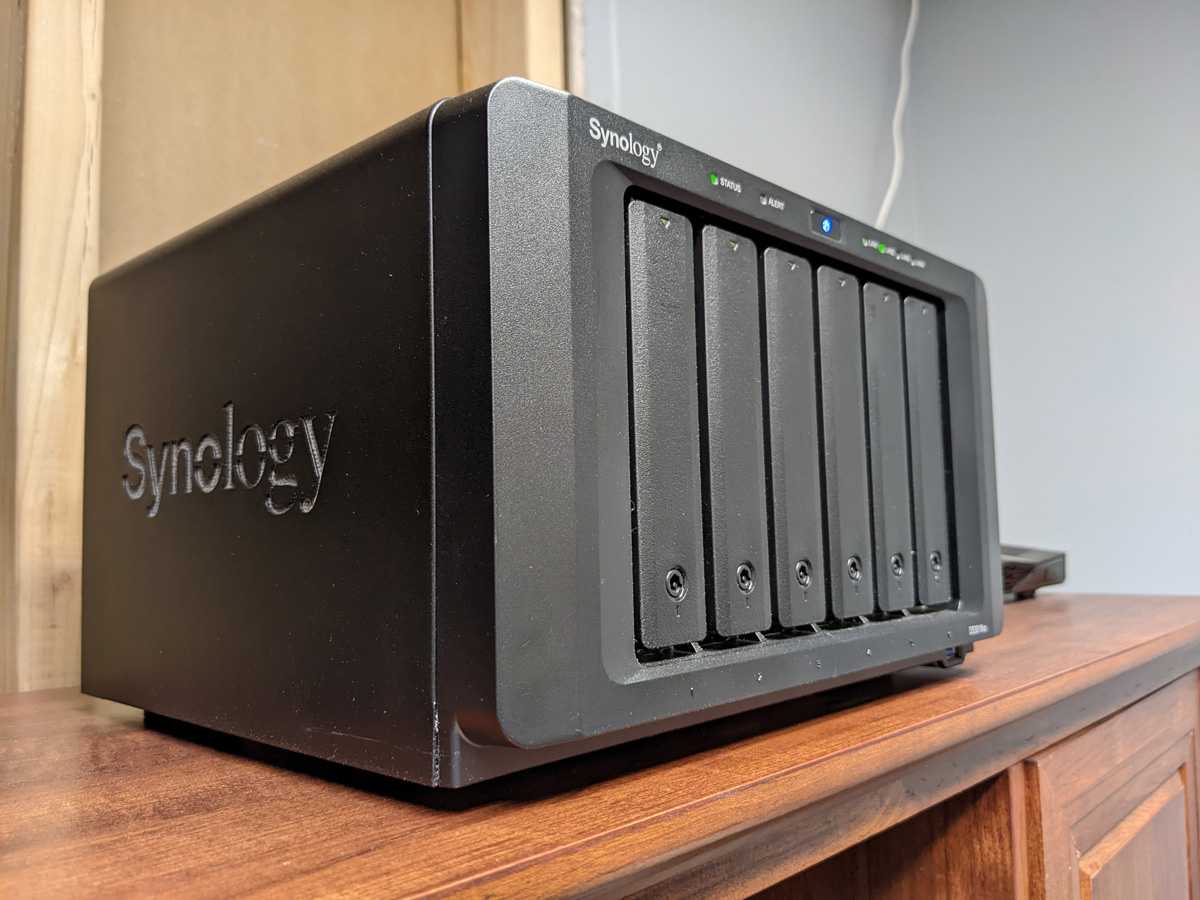 What is a Synology NAS?
A NAS is a specialized network attached storage (NAS) device for easy accessibility, retrieval, and data sharing. A NAS is a device that provides a centralized location that allows authorized users to access and modify synced data folders. A NAS also offers the vast majority of the services provided by the standard Windows servers but with less customization and more streamlined settings.
While less customization may sound like a downside at first glance, Synology's DSM (Disk Station Manager) software makes it much faster and easier to configure and setup than a traditional Windows Server. Based on our experience using Synology NAS devices and competing products from for over 10 years, Synology manufactures the best NAS devices paired with superior software for ease of management.
Advantages of Using a Synology NAS Over a Windows Server
The advantages of using a NAS for your small business greatly outweigh the strengths of traditional servers. Check out some of our favorite features and benefits of NAS devices:
Lower Cost of Entry and Scalability
Unlike Windows Server, which can be more expensive to buy and setup, NAS software is included with the NAS device, thus cutting initial purchasing costs.
Most Windows Server licenses also require you to utilize their per-user licensing model. With a Synology NAS, you only purchase the software once, and there is no per-user fee. If you have a small business with 1-2 users, or 100-200, your price is the same. This allows businesses to grow without exponentially increasing their network infrastructure cost.
Additionally, as new versions of the DSM software (operating system) release, upgrades are free of cost. Whereas, if you were to upgrade from Windows Server 2019 to Windows Server 2022, you would pay a hefty fee for the upgrade.
This onetime fee without per user licensing model works extremely well for small businesses who are just starting out and those that are scaling overtime.
If you are buying a Synology NAS online, you can either buy the system "Diskless," meaning it does not ship with hard drives, and you need to buy your hard drives (or solid state drives) separately. Or you can buy the system with the drives pre-installed, but you should make sure the size requirements will suit your needs.
In addition to configuring the storage size, Synology NAS devices can be further customized, if desired, for unique performance improvements to allow for SSD caching drives, greater storage capacity, etc.
Whether you are looking for a starter NAS for a very small team, or a performance NAS for a rapidly growing business, Synology has you covered with numerous options.
The following are a few of our favorite NAS' devices:
The DS723+ is a budget friendly/entry level model for individuals or very small offices just getting started with their first NAS who have a limited budget.
The DS923+ is great for small businesses who need flexible file sharing and basic applications. This is a value deal for solid performance at an affordable price.
The DS1522+ is excellent for small and medium businesses. We use da version of this for 15 series for many years before upgrading to the XS series for advanced performance needs.
We love the XS+ series for truly high-performance. This unit is comparable to what we use as our NAS at Igniting Business. It's great for larger businesses or small businesses that require performance.
Easier to Use and Faster to Deploy
Although Microsoft Windows servers allow for more advanced controls, they also require much more initial setup and configuration, as well as increased time for ongoing management.
A Synology NAS is far easier and quicker to setup than a traditional server. Additionally, the device by default only comes with the applications that are commonly needed by small businesses. However, if you need more advanced features, you can navigate to the Package Center where you can download additional software packages.
Extensive Library of Additional Applications
Typically, with traditional servers, when you want an additional feature, you must purchase additional software that is compatible with the version of Windows Server that you use. For example, if you want your Windows server to act as a mail processor, you would need to purchase Microsoft Exchange licensing.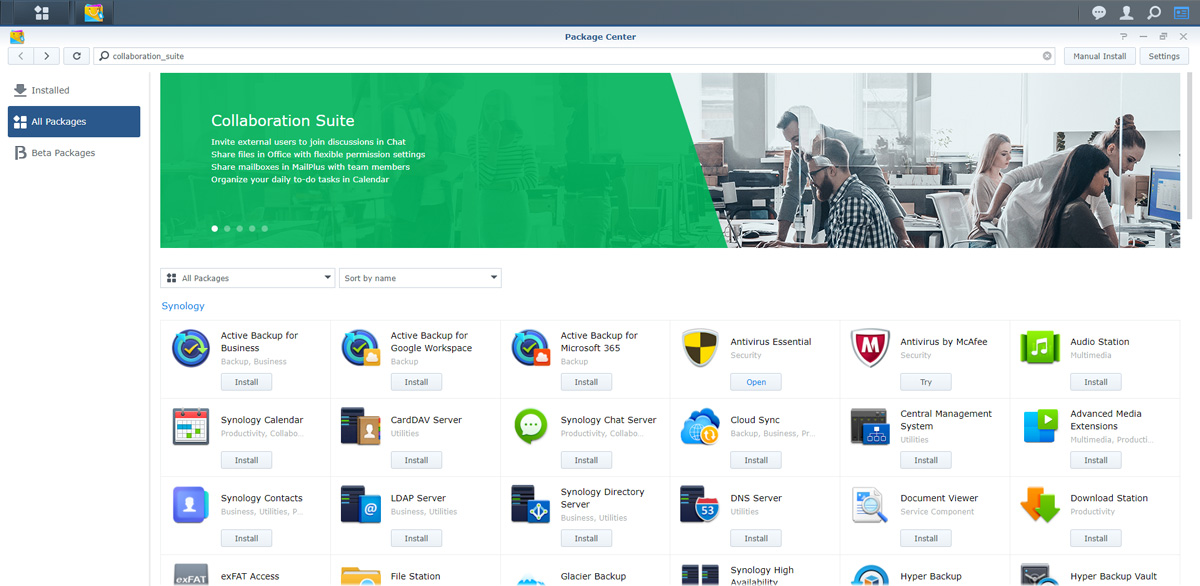 However, with a Synology NAS, you have access to their robust Package Center which has numerous free applications including backup software, email management software, database systems, and more.
Now, Synology certainly does have some third-party applications that do require a fee, but, in our experience they are rarely needed except for unique circumstances.
Greater Collaboration
Once configured, folders on the NAS can be mapped to your local computer as local network drives. This setup gives you the power of accessing terabytes of data on the NAS, without the fuss of having it stored on your computer or utilizing a traditional server.
Unlike Windows servers, NAS devices also provide a great way for the users to share folders with clients outside the network right out-of-the-box. You simply need to create a shared link to the folders you wish to share, set permissions and expiry data, and send the links to the clients.
Included Cloud Service
Synology NAS has their own built-in (included software) called Synology Drive which allows you to install Synology Drive on computers to sync files between the NAS and local copies of the files on computers.
This works exceptionally well for users who are working remotely or traveling frequently. Normally, you would have to pay for a service (per user) like DropBox, OneDrive, or Google Drive to have this functionality.
But with Synology, there is no additional cost and no limit on storage other than how large of hard drives or solid-state drives (SSDs) are in your device (which can always be upgraded).
Backup Capabilities
There are numerous backup solutions available within Synology NAS' including their snapshot replicator, and our favorite, Hyper Backup.
Hyper Backup has an easy-to-use backup configurator and allows you to backup your NAS offsite to a remote destination like another NAS at a different location or your preferred cloud service like Microsoft Azure, S3 Storage, Rackspace, etc.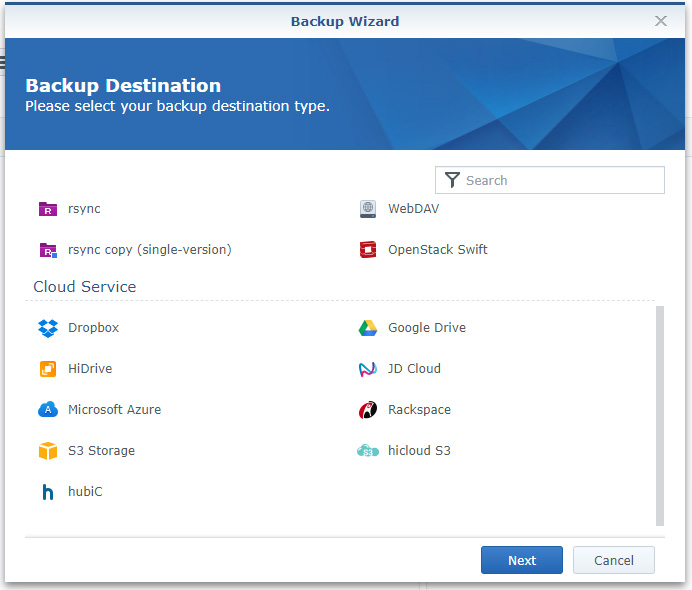 Can a NAS Completely Replace a Windows Server?
For most small to medium businesses, a NAS can completely replace a Windows Server. NAS devices powered by Synology's DSM operating system typically far exceed the needs for file sharing, team collaboration, backups, and cloud storage solutions for most small businesses and are frequently used at medium and large businesses as well.
The biggest roadblock for using a NAS to fully replace a Windows Server is if you have a specific application that only runs on the Windows Server operating system. Before buying a NAS, you should carefully inventory your applications running on your server and verify if they can run on a Synology NAS or be replaced with an equivalent software package within the NAS system.
Do I Need an IT Professional to Setup the NAS for Me?
The short answer is "it depends."
If you consider yourself fairly tech savvy and are comfortable referencing Synology's fantastic documentation and/or working with their support when needed, you likely will be able to tackle setup on your own.
If you are already used to managing a Windows or Linux based server, setting up a Synology NAS will be a breeze in comparison.
Ultimately, if you utilize a qualified local IT provider to setup your Synology NAS, the experience will be even smoother and faster. This is ultimately the route we most often recommend.
NAS Vs. Windows Server for Small Businesses
Check out the video below that compares the pros and cons of NAS devices versus servers.
Why Do We Recommend Synology NAS Over Other NAS Devices like QNAP, Western Digital, Netgear, etc.?
For over a decade, we have personally tried numerous NAS devices from Synology, QNAP, Western Digital, and Netgear. We can personally say that Synology has been hands down our favorite experience, predominantly because of their intuitive software and features out-of-the-box. We exclusively use Synology NAS at Igniting Business and have loved the experience.
If you are sold on a NAS, but aren't sure about Synology, we would encourage you to try out Synology and competitors' demos, read their documentation, and talk to a friend or fellow business who uses some of the technology.
In our opinion, Synology makes the best NAS devices and software currently available.
Get More Tips Like These
If your small business is looking for an affordable file storage and sharing solution, you should certainly consider purchasing a Synology NAS. For more small business tips, consider subscribing to our newsletter or visiting our robust list of recommended tools!
At no additional cost to you, we may receive a commission if you click on some of the links on this website and make a purchase.