5 minutes reading time
(1022 words)
What is Google SpamBrain and How Does It Prevent Spam in Search Engine Result Pages (SERPs)?
Spam is a significant problem in our digital world, ranging from spam emails to spam websites and more. Spam can be malicious, extremely misleading, or simply distracting. When it comes to spam websites in search results, Google has been steadily combating spam to keep users as safe as possible. In this post, you will learn about the impressive Google's SpamBrain system and how it attempts to minimize spam within the search engine result pages (SERPs).
SpamBrain - Google's AI-Based Spam Prevention Algorithm
SpamBrain is Google's extremely effective algorithm credited for catching, improving, and minimizing spam websites and spam search results. SpamBrain is Google's AI-Based Spam Prevention Algorithm and protection system which was originally launched in 2018. However, Google only shared the name of their spam system in April of 2022.
SpamBrain has grown since it was first used through constant updates and is now arguably more effective than ever at detecting spam which is backed up by Google's shared spam detection and removal statistics, despite overall spam sophistication and spam creation being on the perpetual rise. According to Google, SpamBrain's AI powered platform is designed to continually identify and improve its own performance in detecting spam.
Search Engine Spam Detection and Removal Improvements
In their annual Webspam report of 2022, Google said they had made additional strides to thwart search spam attempts. The highlights from the 2022 report include:
Detected 5x more spam sites compared to 2021 and 200 times more compared to when it first launched in 2018.
99% of searches within Google are "spam free"
10x improvement in hacked site detection
Reduced clicks to scam sites by 50% in comparison to 2021
You can read Google's formal response to the FTC regarding Google's actions for fighting spam and fake reviews in search engines.
Google continues with its efforts to fight spam and keep search results useful with improved quality. Some sites will certainly still get away with spam tactics, but Google's constant efforts will help detect and block those sites from ranking highly on Google searches.
Recent Spam Related Search Engine Algorithm Updates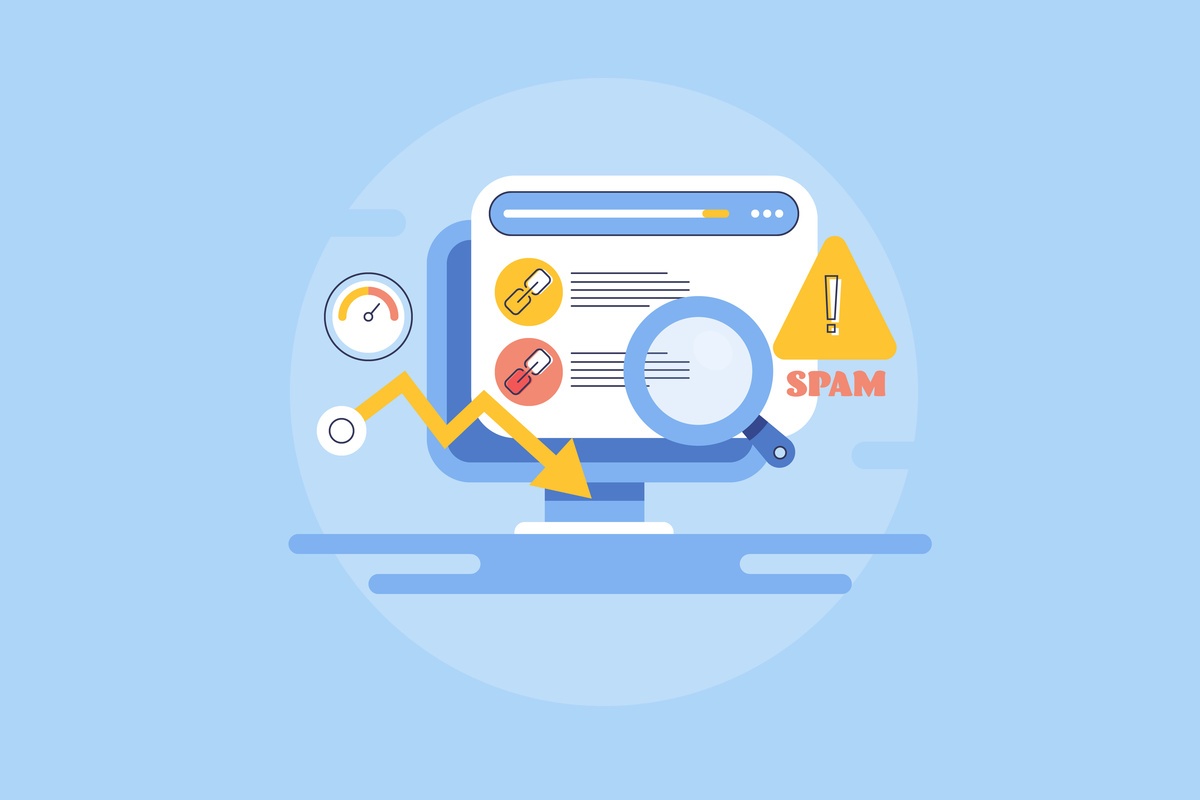 Google continues to release updates that improve SpamBrain's spam detection systems, accuracy, and scope. The following are a list of algorithm updates (confirmed by Google) that directly impact the Spam Brain system. Keep in mind that there are hundreds, if not thousands, of other updates through the year that likely either directly or indirectly also impact Google's spam detection systems. The following updates though are likely the most impactful and blatant updates to the spam detection system.
October 2023 Spam Update
On October 4th, 2023, Google released their October 2023 Spam Update which improved their spam detection system. The October 2023 spam update finished rolling out on October 19th, 2023. This update focused on improving their system's effectiveness on detecting spam in several key languages including Turkish, Vietnamese, Indonesian, Hindi, Chinese, and other languages. Google's goal was to reduce the volume of spam within search results, especially as it relates to websites using cloaking, hacked, auto-generated, and scraping tactics.
Google cited multiple times that this update was in part thanks to the communities feedback and continuous efforts filing spam reports which helped improve their spam detection systems.
December 2022 Link Spam Update Leveraging Google SpamBrain
On December 14, 2022, Google began rolling out an update to Google Search called the December 2022 Link Spam Update. According to Google, this update leverages "...the power of SpamBrain to neutralize the impact of unnatural links on search results." In other words, SpamBrain will now be used to better combat link spam, including improved detection of both websites that buy backlinks and websites that are built solely for the purpose of creating outgoing links.
The December 2022 Link Spam Update took 29 days to fully roll out.
Google Creates a Formal Spam Reporting Form - June 2023
In June 2023, Google created a Search Quality User Report form which the general public can use to report spam within search engine results. This awesome tool allows the web users to aid Google's automated systems when it comes to reporting malicious or spammy tactics on the web.
Check out our guide on how and when to use Google's new spam reporting form for more details.
Other Spam Related Algorithm Updates
In 2021, we reported on other major updates that Google rolled out regarding setting a higher standard for product reviews (April 2021 and December 2021) and the two-part Link Spam updates (June 2021 and August 2021). You can also check out Google's previous spam reports which showcase how their fight against spam has continued to evolve over the past five years: 2022, 2021, 2020, 2019, 2018, 2017.
At Igniting Business, we constantly monitor the evolution of search results to advise our clients on best search engine optimization tactics. Contact us today to learn more about our SEO services for your small business.
Tools for Monitoring and Improving Your Web Presence
If you are looking for tools to help keep tabs on your online presence and search engine optimization (SEO), we'd recommend you check out Semrush and BrightLocal:
Semrush – You can use Semrush to audit your website's SEO health, conduct keyword research, develop your content marketing strategy, and aid in the implementation of key onsite SEO elements for website. Get a free trial of Semrush today.
BrightLocal – BrightLocal is a great tool focused on Local SEO. You can use BrightLocal to check your local rankings, monitor your Google Business Profile listing, submit information to key listings, keep an eye on competitors' rankings and be on the lookout for spam listings. Try BrightLocal's tools for free.
At no additional cost to you, we may receive a commission if you click on some of the links on this website and make a purchase.