3 minutes reading time
(688 words)
Use Google Business Profile Posts to Attract Customers and Boost Your Visibility on Search Engines
Today, in order for your small business to succeed and keep up with the competition, maintaining an active online presence and pursuing online marketing efforts is critical. Your online marketing assets, such as your website, social media channels, and online business listings can help you attract new customers, retain existing customers, and increase your sales.
Platforms like Google Business Profile (GBP), formerly called Google My Business (GMB), and features like Google Posts help make it easy for your small business to stay active online and boost your search engine rankings, allowing consumers to easily find your company.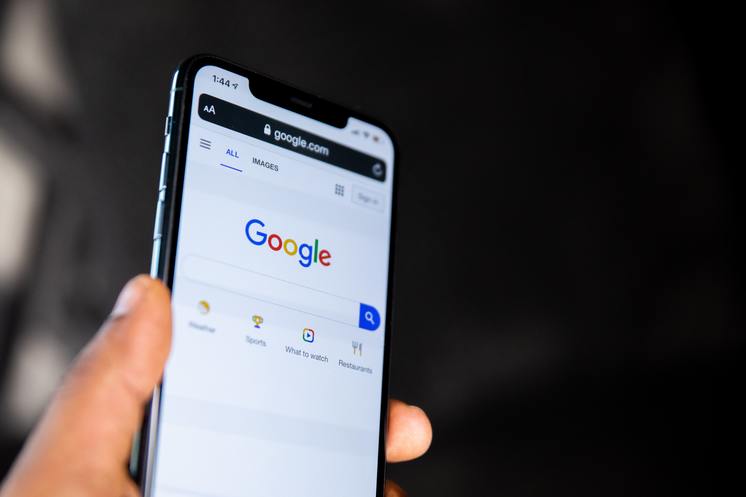 What is a Google Business Profile?
To enhance the usability of search results, Google creates profile pages for businesses from publicly available information. Google Business Profile (GBP) is a free toolset which allows you to access and manage your listing or create your own if one does not already exist. These listings appear prominently in Google Search results, as well as Google Maps, allowing consumers looking for your products and/or services to find your small business easily.
On your GBP profile, you can share a brief description of your offerings and a link to your website, as well as your location, hours of operation, photos of your business, contact information, and various other attributes. Google also allows you to further enhance your GBP profile with regular content via Google Posts.
What Are Google Posts?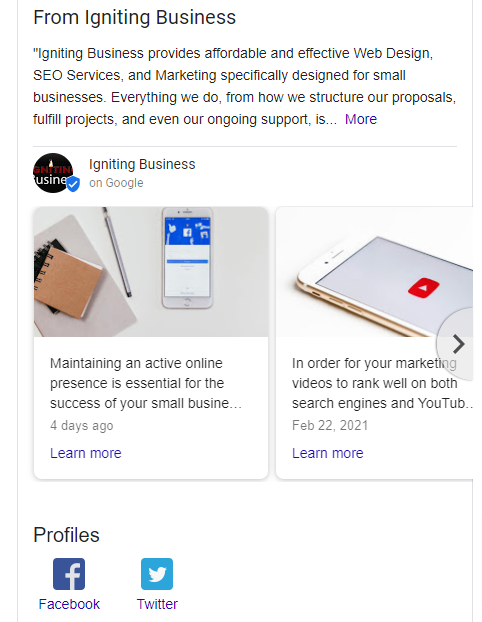 Google Posts is another free GBP feature that allows you to post text (up to 1,500 words), photos, or video content on your GBP profile. Up to ten of these posts can appear in a carousel under a GBP listing displayed alongside Google or directly within Google Maps search results.
How Google Posts Can Benefit Your Business
With Google Posts, you can showcase events, display promotional offers, add product photos and descriptions, share COVID-19 policy changes, and more. Consider using Google Posts to:
Announce in-person or virtual events at your location: If you're a café holding an open mic night or a fashion retailer hosting a launch party for a new line, a Google Post announcement is a great way to notify your customers of the upcoming event.
Display promotional offers and discounts: Posting a time-limited promotion, such as a one-day sale, on your Google Business Profile can be a great way to attract traffic to your brick-and-mortar store or your website.
Make announcements: Posts can also be a great way to get the word out about crucial information, such as changes to your operating hours or physical address.
Posts can showcase the personality and vibrancy of your business. Additionally, because Posts can help you generate more organic interactions with your website, they can help build up your page rankings, strengthening your website's search engine optimization (SEO).
How to Easily Create Google Business Profile Posts
If you are already using social media management tool to schedule your social media posts, you can simply repurpose social content for your Google Business Profile Posts. To save additional time, many social media management tools, including our favorite, Zoho Social, integrate directly with Google Posts, allowing you to post to your Google Business Profile with a click of a button!
Additionally, if you're looking to make custom graphics for your Google Posts, you can try using an easy-to-use graphic design tool like Canva. As a reminder, since these posts can show up directly within Google search results, it's important to create eye-catching graphics to entice viewers to click to your website to learn more. Note that you need to abide by Google's photo guidelines to avoid receiving a photos "Not Approved" notice.
Google Business Profile is undoubtedly one of the most powerful tools in a small business owner's online marketing arsenal. By taking advantage of Google Posts, you can grow traffic to your online storefront or brick-and-mortar store, strengthen your SEO, and significantly increase your sales. For help getting started with Google Posts, or to learn more about our ongoing SEO services, contact us today!
At no additional cost to you, we may receive a commission if you click on some of the links on this website and make a purchase.