4 minutes reading time
(875 words)
Shopify vs. Shopify Plus: What's the Difference?
The e-commerce world has absolutely exploded over the past few years, and there's no sign of it slowing down anytime soon. According to Forbes, e-commerce sales are projected to top $8 trillion globally by 2026, with nearly a quarter of all sales happening online.
Shopify is one platform that makes building an online business easy and accessible for entrepreneurs at all levels of business, from the brand-new beginner to the established business goliaths.
As one of the most well-respected and recognizable e-commerce platforms, Shopify offers a variety of tiers designed to meet merchants' needs at each level of business, from a set of three standard Shopify plans with tiered features to the ultimate big business solution, Shopify Plus.
What is Shopify?
Shopify is a comprehensive e-commerce platform used by millions of merchants worldwide. Users can create a customized online store to sell physical and/or digital products to consumers. Shopify hosts a large variety of merchants, from fitness products and new technology gadgets to live event tickets and vintage books.
Shopify isn't just digital. The platform can be used in person, online, with social media platforms, or a hybrid based on the merchant's needs.
The platform gives business owners an all-in-one solution to process payments, manage inventory, track orders, and communicate with customers. There are three standard plans starting at $29/month designed to suit varying levels of user needs: Basic, Shopify, and Advanced.
What is Shopify Plus?
Shopify Plus is an even more robust e-commerce platform specifically designed for high-volume, high-revenue merchants. Shopify Plus is used by many major, highly visible brands and has a reputation for delivering a seamless customer experience.
Shopify Plus offers many more complex features, including real-time carrier tracking, advanced reporting, and higher levels of support. The Shopify Plus platform is entirely customizable, allowing advanced coding workflows and integration with custom apps.
How are Shopify and Shopify Plus Similar and Different?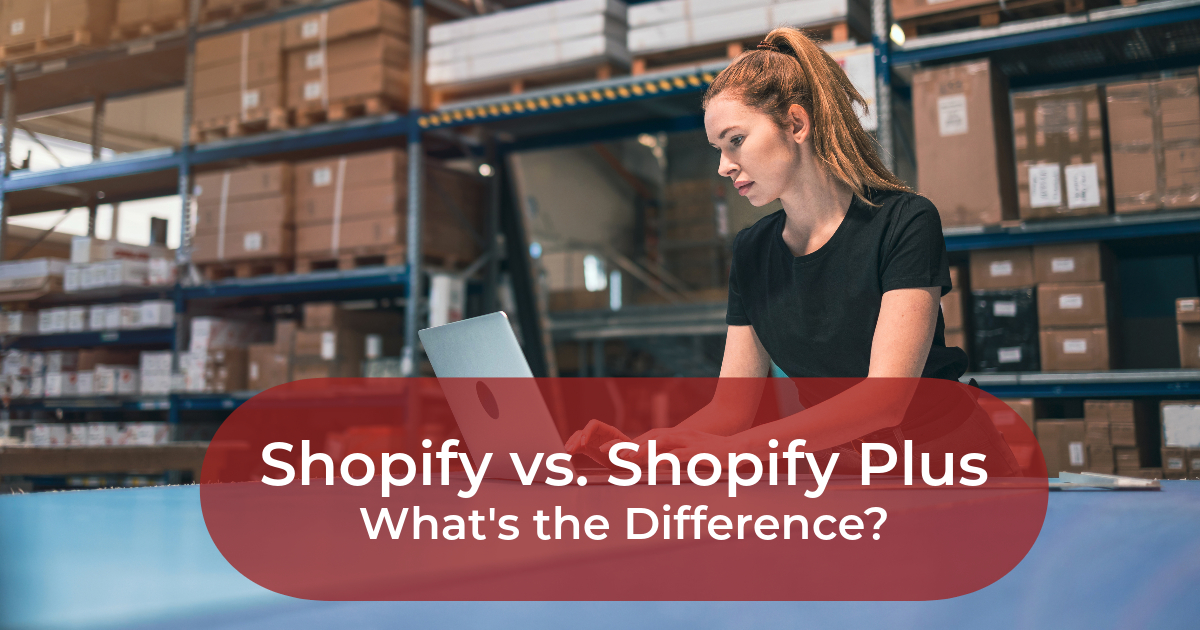 Both Shopify and Shopify Plus offer the same set of basic features. Some notable features found in both include:
Cloud-based online storefront
Unlimited products
Marketing automation
24/7 support
Access to multiple sales channels
Credit card processing
Sales tax collection
Gift cards, discount codes, and abandoned cart recovery
Shopify Plus kicks it up several notches with a fully customized experience. Some of the additional features for Shopify Plus merchants include the following:
A dedicated launch manager to coordinate the entire store setup process, including managing the migration from an existing e-commerce system
Shopify Scripts Editor to create custom, personalized checkout experiences
Wholesale channel allowing customers to buy in bulk
Permission to change the coding to customize all aspects of the site
Unlimited staff accounts
Ability to integrate with third-party apps
The most advanced reporting and analytics
9 free expansion stores under the same brand for selling products in different languages or currencies
Includes Shopify POS (Point of Sale) Pro by default for up to 20 locations
For a list of full feature differences, check out Shopify's own head-to-head comparison of their standard product line with Shopify Plus.
Of course, all these custom upgrades and features come with a premium price tag.
Shopify and Shopify Plus Pricing and Packages
Shopify offers three standard plans: Basic, Shopify, and Advanced. Basic plans cost $39 USD per month; Shopify plans are $105 USD per month; Advanced plans are $399 USD per month. Each option offers a discount to pay annually, with the cheapest Basic package coming in at $29 per month which is highly accessible for small businesses.
On the other hand, Shopify Plus begins at $2,000 USD per month, making it accessible only to those businesses that generate large amounts of revenue consistently.
Who Should Use Shopify Plus vs. Standard Shopify?
Shopify Plus is best for high-volume, high-revenue merchants with very complex e-commerce needs. If a business has one million or more in sales each year, Shopify Plus may be worth considering. For small and medium-sized businesses, one of the standard Shopify plans should be sufficient. Shopify's standard three tiers are logically organized and competitively priced to grow as your business does.
Start Selling with Shopify or Shopify Plus Today
Ready to jump into the fast-paced world of e-commerce? You can't go wrong with Shopify. Head here to get started with a free trial of Shopify's standard plans today.
If you'd like to learn more about Shopify Plus, we recommend talking to a Shopify Plus specialist first. If you're interested, please contact us, and we will connect you with a Shopify Plus expert on the Shopify team who will walk you through the Shopify Plus platform and answer your questions.
Want to keep up-to-date on all the latest e-commerce trends? Sign up for our newsletter to get all the latest tips and trends sent directly to your inbox. If you need help setting up your Shopify store, don't hesitate to reach out to our Shopify certified specialists.
At no additional cost to you, we may receive a commission if you click on some of the links on this website and make a purchase.