5 minutes reading time
(978 words)
5 Website Security Mistakes to Avoid
Technological development goes hand in hand with security risks. Big companies like Adobe, Home Depot, and Sony have fallen prey to hacking attempts. While you may assume your small business is safe due to your relative obscurity, small businesses undeniably make for ideal targets for cyber-attacks due to their low security standards and lack of website security measures.
Hackers continue making sophisticated software to attack vulnerable websites or servers. If your web security is lacking, this can put your small business at risk. Keep reading to discover five web security mistakes to avoid if you want to ensure your small business website is properly protected.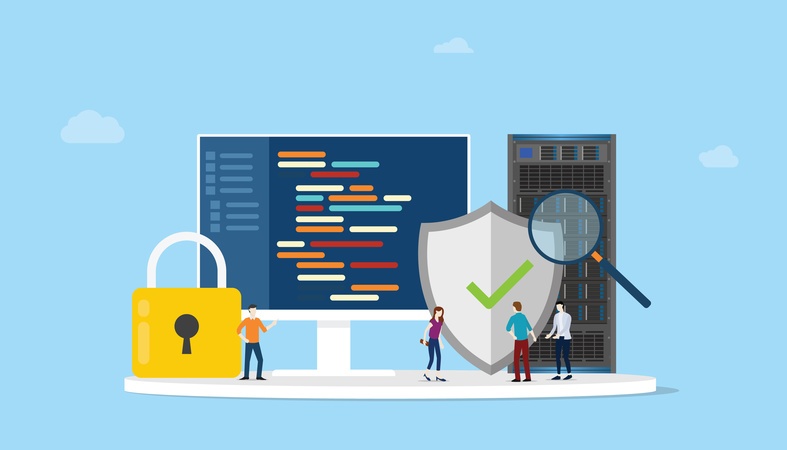 1. Ignoring Vulnerabilities
"If I don't pay attention to it or it's not causing immediate problems, it's not that big of a deal." This is a dangerous philosophy that many people use, which tends to go sour fast. A website needs regular maintenance checks, which highlight the vulnerabilities of your platform. No matter how small you consider an error, it's in your best interest to never turn a blind eye to any issue.
Even an outdated WordPress theme can put you at risk. Each installed extension or web app poses a risk since it opens a new window for third parties to exploit. Thus, it is essential to keep an eye on systems, audits, or even changelogs/release notes, that notify you of potential risks.
2. Creating Poor Passwords
Short, easy-to-remember, reused passwords can put your small business at serious risk. In order to protect your company and customers' information, it is critical to use strong, unique passwords. Many platforms have strict conditions in place, prompting you to create strong passwords. Check out these tips for creating a strong password:
Do not use the word "password", no matter how many variations you combine.
Do not use numbers or letters in order (i.e. 1, 2, 3, 4).
Avoid using obvious information about your life/business.
Combine lowercase and uppercase letters.
Include as many symbols as possible.
Do not re-use a password for multiple systems. Each password should be unique.
Do not store your passwords in any sort of unencrypted location.
3. Ignoring or Continually Postponing Software Updates
No matter the platform, software updates are a vital part of sustaining website functionality and security. These updates come with security patches that strengthen your software's protection. Software updates also fix any loopholes in security that happen due to errors or bugs.
We understand that the moment a software update rolls out, it may not be in its most stable format. As such, we always recommend checking the changelogs/release notes to see if the update addresses security issues or introduces new features.
Naturally, it's important to install updates rapidly, especially if they are security related. However, use your critical judgment to determine the best rollout timing given the changes document and the stability of the update.
However, simply because you are worried about an update breaking something is not a valid reason for continually delaying important security updates.
4. Improperly Managing SSL Certificates and Using Outdated Encryption
SSL certificates are digital safeguards that authenticate your website. There are a few steps you need to take to ensure the proper maintenance of these certificates. These steps include:
Gain visibility through a safe identification process.
Remediate weak keys and hashes.
Enforce an enterprise-level policy defining roles and responsibilities.
Invest in automation and integration.
Track the certificates with frequent scans.
Ensure outdated versions of encryption are removed.
5. Failing to Perform Regular Security Audits
Monitoring does not only apply to SSL certificates. Any website owner should impose regular checks on their platform and associated plugins. Malicious parties will tackle the smallest inconveniences in your software. Performing regular security scans will allow you to make updates as needed to keep your website protected.
Keep in mind that the audit should address not only focus on website software, but also include your server/website hosting software, any third-party plugins/API's integrated, and even internal procedures that govern your personnel (password selection and rotation, deactivating old employee accounts, etc.).
The above are not all the items that should be audited, but they serve as a starting point to coming up with your own routine web security auditing practices.
Contact Our Web Security Experts
At Igniting Business, we provide quality web security packages to keep hackers at bay. To learn more about our web security services and how we can help keep your small business secure, contact our web experts today!
Looking for Web Security Tools to Strengthen Your Toolbelt?
Perhaps you already on top of your security, but you would love to learn more about some tools that can help. The following are a few web security tools that we have used and find extremely helpful
Sucuri – Sucuri is not cheap, but they are powerful. Their service includes installing an advanced web application firewall (WAF) and ongoing monitoring. Additionally, when working with Sucuri, you have a malware remediation team at hand who can help with website security hardening as well as hack/malware removal when necessary. Start proactively protection your website today!

KnownHost – Quality web security starts with having a secure server. KnownHost is by far our favorite web hosting company, and that's saying something considering we've directly worked with dozens of web hosts over the years. Besides having great hardware and security practices, their managed support team is the most responsive in the industry. Check out KnownHost's Web Hosting packages today.
Qualsys SSL Labs – Qualsys has an impressive SSL test that performs a deep analysis of your SSL certificate on your website. Run the SSL Analysis tool for free.
If you'd like more tips like these delivered straight to your inbox, consider subscribing to our free monthly newsletter.
At no additional cost to you, we may receive a commission if you click on some of the links on this website and make a purchase.