3 minutes reading time
(538 words)
4 E-Commerce Website Mistakes to Avoid
As more people move online to purchase their desired products and services, it is critical to ensure your small business' e-commerce website is up to par. With just a few clicks, online users have a plethora of website options to select from, which means your small business' e-commerce site only has a short window of time to make a good first impression. Discover these four e-commerce website mistakes to avoid to keep your small business ahead of the competition.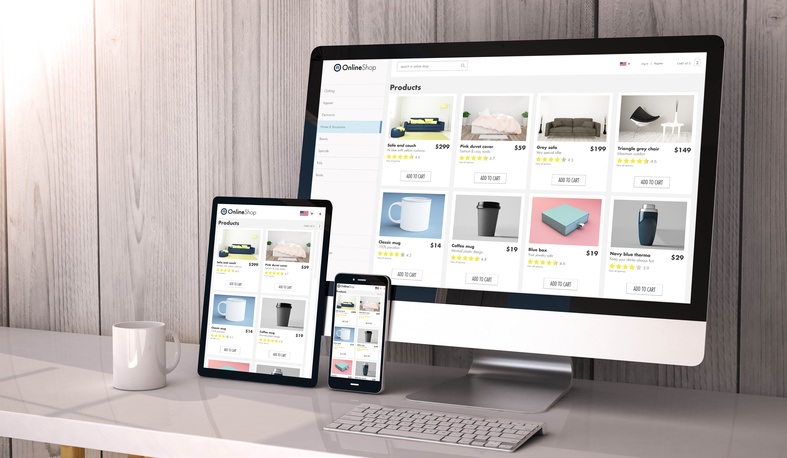 1. Site Not Optimized for Mobile Users
As of 2021, 58% of all online purchases are completed by way of a mobile device. While a customer may complete their first purchase on a less-than-ideal mobile site if the product is truly incredible, it's likely to be their last purchase if the buying experience is miserable.
In order to keep up with today's consumer purchasing behavior and keep customers coming back to your e-commerce website, your customer's e-commerce experience should be completely stellar from beginning to end, no matter what device they use.
2. Poor Quality Product Images
Product images are one of the most important aspects of an e-commerce website. Not only are people immediately drawn to colorful, aesthetically pleasing visuals, having clear, high-quality images on your e-commerce site helps to sell your products. If your product images are unclear and low-quality, consumers will often head to another website to find and purchase their desired products. In order to keep potential customers interested in your products, ensure your product images meet the following criteria:
Show the item as a whole
Highlight important features
When necessary, show how the product may be used/enjoyed
Present accurate dimension perception
Show accurate color perception
3. Complex Navigation
Your e-commerce website's functionality is just as important as its content and design. A site with a confusing, complex navigation will send frustrated users elsewhere. To keep potential customers on your site and boost your e-commerce sales, it is crucial to ensure your e-commerce website navigation is user-friendly. If your store has numerous products, make sure your website utilizes efficient filters, tags, and search options.
4. Choosing the Wrong E-Commerce Platform
Choosing the wrong e-commerce platform to build your site can lead to numerous issues such as lower traffic, poor conversion rate, and revenue loss. In order to ensure your e-commerce website works for both you and your customers, it's important to choose a quality e-commerce platform.
At Igniting Business, we believe Shopify is that quality! Our partnership with Shopify has allowed us to unite our clients with some of the best e-commerce tools available while remaining affordable for small businesses.
If you are a bit of a do-it-yourselfer or are on a tight budget, you can even get started with Shopify today using one of their free store themes. Also, if you want to see if Shopify is right for your e-commerce store, redeem a free 14-day trial with no credit card required.
To learn more about our partnership with Shopify, or for more information regarding our e-commerce design services, don't hesitate to contact our web design specialists today!
At no additional cost to you, we may receive a commission if you click on some of the links on this website and make a purchase.