4 minutes reading time
(851 words)
Shopify Plus Pricing Explained: Premium Pricing for a Premium Platform
Taking a glance at the price jump from Shopify's Advanced plan to Shopify Plus might give you a serious case of sticker shock. But when you dive into all the added features and customizations inside Shopify Plus, you'll realize there's a very good reason for the roughly 400% price increase. Let's unpack the ins and outs of Shopify Plus' pricing.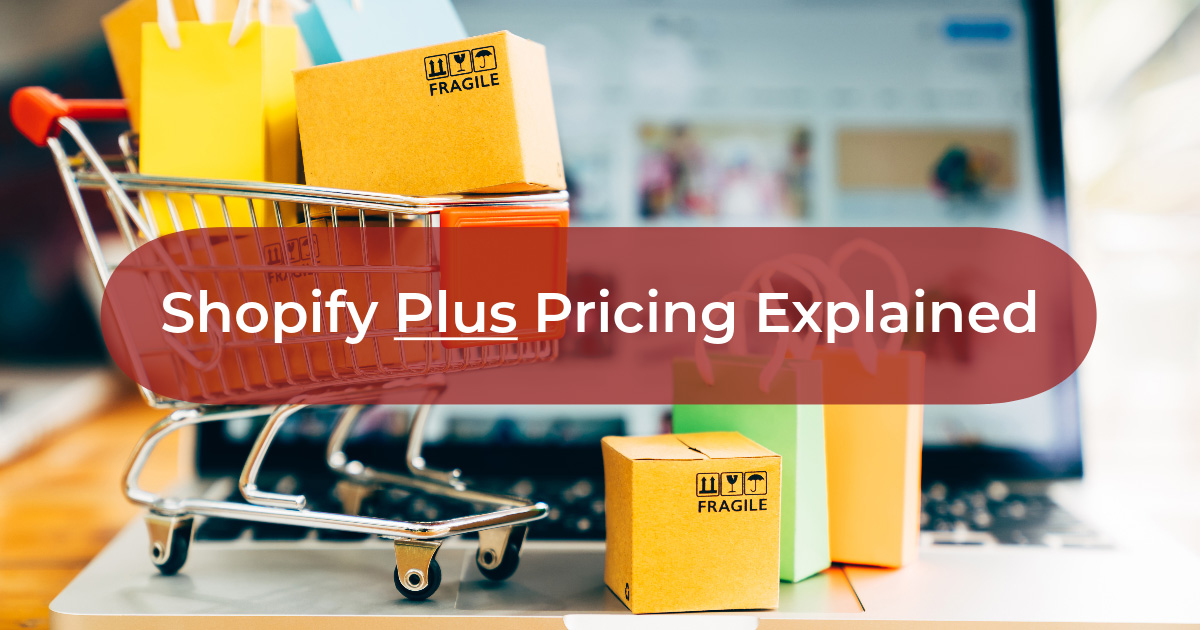 What Makes Shopify Plus Different from Shopify's Other Packages?
Shopify Plus is quite different from the standard Shopify offerings. In general, Shopify Plus is meant to be a tremendously customizable, all-in-one e-commerce solution for large, high-volume companies.
When Should a Company Consider Using Shopify Plus?
Once an e-commerce business hits $1 million in annual revenue (or roughly $80,000 per month), an upgrade to Shopify Plus likely makes sense to both save costs via lowered payment processing fees and get access to more advanced features.
We would also argue that if you are a multi-location business with quite a few storefronts, using Shopify Plus' POS Pro account within Shopify Plus may also justify the cost quite rapidly.
Do you have a lower volume? If so, the $2,000+ per month price tag doesn't likely add up unless you have a very specific use case requiring Shopify Plus' more advanced features.
Shopify Plus Functionality and Benefits
With Shopify Plus, a business receives the full white glove treatment, including a dedicated Shopify launch and account manager to handle your individual business needs.
Shopify Plus yields many more perks, and the following are a few of our favorites:
Shopify Scripts Editor to create custom, personalized checkout experiences
Priority 24/7/365 support by phone, chat, or email ensures your issues are handled rapidly
Access to Shopify Flow for automating workflows for customer loyalty and rewards, segmentation, merchandising, and fraud prevention
Access to Launchpad to preschedule promotions, product releases, and timed updates to your store
Shopify POS (Point Of Sale) Pro for 1,000 brick-and-mortar locations when used in combination with Shopify Payments
Sell in over 133 currencies and in up to 20 different languages
Wholesale channel allows customers to buy in bulk
Access to change the coding to customize all aspects of the site (this is limited in other Shopify packages)
Unlimited staff accounts
Ability to integrate with thousands of third-party apps
Lowest available credit card processing fees
The most advanced reporting and analytics
Once you get the complete picture of all that comes with Shopify Plus, you begin to see why the $2,000/month price tag makes sense. You also begin to understand why this service isn't the most feasible option for most small businesses.
How Shopify Plus Pricing Works
As previously noted, Shopify Plus pricing starts at $2,000 per month. Costs increase as a company's volume increases, reflecting the upgraded features and higher level of support provided. If your store makes over $800,000 in any given month, you switch to a platform fee of 0.25% for each sales transaction.
With an impressive roster of premium clients, ranging from Heinz's direct-to-consumer line to Allbirds, known as the world's most comfortable shoes, Shopify Plus can certainly justify its pricing with impressive customer success stories.
Because each plan is highly customized to an individual business' needs, your final monthly cost can only be determined after a consultation with a Shopify Plus sales team member. They will evaluate your needs and provide a custom proposal.
How to Get Started with Shopify Plus for Enterprise Companies
If you're ready to explore Shopify Plus as the best e-commerce solution for your business, your first step is to get in touch with our team. Depending on your company's size, industry, and development timeline, we may work with you directly, or we will refer you to a company that can help if they would be better suited for your business.
Should Small Businesses Consider Upgrading to Shopify Plus?
Unless your annual revenue is near or above $1 million per year, Shopify Plus is likely not a wise investment for a small business. Instead, we recommend exploring other Shopify packages. Shopify Basic is for the true beginner, with plans starting at $39/month. For businesses that need a bit more, Shopify Advanced is a great option starting at $399/month.
Additionally, all standard Shopify plans come with a discount for paying annually and include a free trial to get your feet wet. You can sign up for a free trial of Shopify here. If you need some extra help getting started with your Shopify store, check out our e-commerce web design services.
To find out how we can support your small business with web design, SEO, or marketing, contact us here. Be sure to sign up for our newsletter for more valuable, up-to-date e-commerce tips.
At no additional cost to you, we may receive a commission if you click on some of the links on this website and make a purchase.